"Alfafufu Wheel Matching Special: 18inch 2piece"

I've tried some wheels for our 156 and found that big 2 piece wheels suit our fire black body much.
In this section, you can see our 156 wearing some 18inch wheels. That's wheel matching showcase.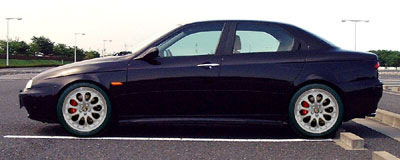 Zender Siena 18 inch

This is Zender Siena 18inch. Many GTV/Spider owners select this. There's no doubt Siena matches GTV/Spider very well. But this cool wheel suit 156, too. Especially Siena with fire black body looks great. I love this Alfa Romeo taste wheel.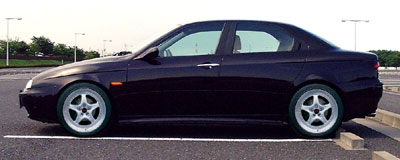 Novitec N3 18 inch

I like Novitec. Very good looking. This wheel is 18inch size but looks not so big. This can happen on many 2 piece wheels. Like BBS LM, spokes are not so long because it's 2 piece and rim area is too wide. This is why these 2 piece wheels look not so big.
Novitec N3 is very fresh and sporty design. Maybe Rosso is best color for this wheel. I want more heavy design for our fire black 156.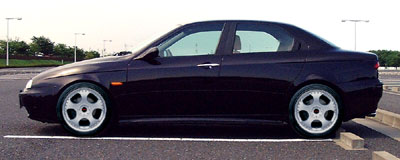 Novitec N5 18 inch

This is also Novitec wheel. Dish-like design with center cover. More heavy taste than N3. And looks bigger. Five holes on dish plate suit Alfa Romeo very much. Cool, but I don't like center cover much.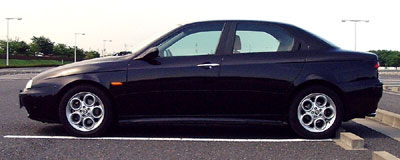 AlfaRomeo genuine 16 inch by Speedline

This is real wheel of our 156V6. In Japan, 156V6 are sold with this wheel. So beautiful design and I love this five holes. But 16inch size is cheap. There are 3 size line-up on same design from Alfa Romeo. 15inch was for 145, 17inch is for GTV. Some 156 owner get GTV17inch for their car.
16inch

18inch
You can see the difference between 16inch and 18inch. Uh...18inch wheel looks so great. How cool! I love big wheels (and fat tires) but drive feelings may get worse... Alfa Romeo's suspension units are very delicate and weak, I guess. So you must select "light -weight" wheels when you do "inch-up".
Photo: modified by alfafufu